Modulo OEM Mid Range Reader RFID UHF EPC con 3 antenne esterne ed 1 integrata Near Field. USB e RS232 – ISC.MRMU102-A

Frequenza
Standard
Comunicazione
Performance / Antenne
Modalità Operative
 

RFID in Banda UHF EPC




865-868 MHz (EU)




902-928 MHz (FCC)

 

UHF EPC Class1 Gen2




ISO 18000-6

 

Interfaccie USB e seriale RS232

 

Fino a 4 metri




1 x antenna integrata + 3 x antenne esterne, Multiplexer integrato

 

ISO Host Mode, Scan Mode, Buffering Mode, Keyboard Emulation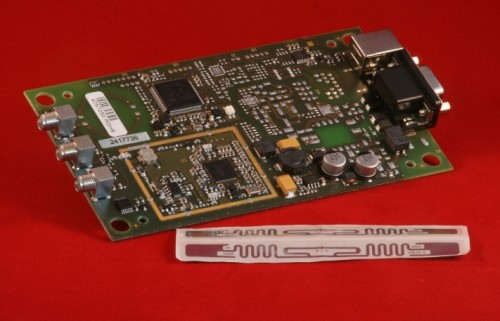 Low Cost OEM Mid Range Reader RFID UHF multi-protocollo di terza generazione per la lettura/scrittura transponders UHF EPC (860 – 960 MHz). 1 x antenna integrata + 3 x antenne esterne, Multiplexer integrato
---
Famiglia OBID by FEIG Electronic, Standard ISO 18000-6 UHF EPC per applicazioni di logistica, industria, controllo di processo, workstation desktop, smart parking, etc…
Product by
Nuovo dispositivo ISC.MRMU102 in banda UHF: dimensioni compatte, performance arricchite, versatilità per un'ampia varietà di applicazioni sono i tratti distintivi del nuovo controller, disponibile anche in versione desktop in box (ISC.MRU102).
La versatilità del controller ISC.MRMU102 consiste nelle interfaccie USB e seriale RS232. Con un consumo massimo di 7 W ed output power regolabile fino a 500 mW, il dispositivo identifica tag RFID UHF EPC Class1 Gen2 ed ISO 18000-6 ad una distanza compresa fra 40 cm e 4 m.
Oltre al collegamento con 3 antenne esterne il controller di lettura e scrittura OEM ISC.MRMU102 è dotato di antenna integrata induttiva Near Field che consente letture/scritture da banco e di prossimità UHF (item level tagging).
Dimensioni board: 137 x 77 x 17 mm.
Interfacce Host: Seriale RS232 ed USB 2.0.
Potenza RF: da 50 mW a 500 mWatt configurabile via software.
Performance di lettura e scrittura fino a 4 metri (dipende da Tag ed Antenne).
Funzioni di Anti collisione (lettura multipla di etichette).
Controller per tag standard UHF EPC ISO 18000-6.
Modalità operative: ISO Host Mode, Scan Mode (USB), Buffered Read Mode e Keyboard Emulation.
Identification of up to 330 Tags / Second in Dense Reader Mode
Indicatore ottico Led multicolor. Monitor di temperatura.
Antenna connection: 3 x SMA-Female (50 ohm) e 1 x antenna integrata near field di prossimità – Multiplexer RFID UHF integrato.

Firmware upgradabile attraverso Flash-EEPROM
Modelli :
ID ISC.MRMU102-A – (pn 3779-000-00) Mid Range Reader RFID UHF OEM Controller Module (RS232, USB) with 3 external and 1 integrated antenna NF (multiplexed). Operating Frequency 860 MHz to 960 MHz. Standard UHF EPC Class1 Gen2 ISO 18000-6. Output Power: 50-500 mW (configurable). Read Range: up to 5 m. (in combination with UHF Antenna ANT.U270/270). Antenna Connector: 3 x external SMA-Female (50 ohm), 1 x integrated Near Field Antenna. Host Interfaces: RS232-V24 & USB (Full Speed). Protocol Modes: FEIG ISO Host Mode, Buffered Read Mode, Scan Mode. Power Supply: 12-24 V DC. Signaler, optical 1 LED (multi-color). Temperature monitoring. Dimensions: 137 x 77 x 17 mm. OEM version (no Box).
Opzioni:
ID NET.12V-B – (pn 1688-001-00) Power Supply 12V international. Power Supply for Proximity and Mid Range Reader. Input: 100V~-240V~/50Hz-60Hz/200mA – Output: 12V/700mA – European Outlet.
ID CAB.RS-A. T-Form – (pn 1690-000-00) Cable for RS232/485 DB9 and plug injector for power supply.
Per le caratteristiche tecniche e gli sbocchi applicativi il dispositivo può operare con:
ID ISC.ANT.U170/170-EU Antenna UHF.

Circular polarized Panel Antenna for operating frequencies in the UHF ranges 865-870 MHz (Optimized for EU Region). Gain: 4.0 dBic @ 866 MHz. Width (3 dB beam): 85° x 85°. Protection class IP65. Antenna connection SMA socket (50 Ohm). Housing ASA-ABS Light grey. Dimensions (WxHxD): 170x170x25 mm. Weight: 270 g.

ID ISC.ANT.U270/270-EU Antenna UHF. Circular polarized Panel Antenna for operating frequencies in the UHF ranges 865-870 MHz (Optimized for EU Region). Gain: 9.0 dBic @ 866 MHz. Width (3 dB beam): 65° x 65°. Protection class IP65. Antenna connection SMA socket (50 Ohm). Housing ASA-ABS Light grey. Dimensions (WxHxD): 270x270x57 mm. Weight: 1.210 g.
ID ISC.ANT.U600/270-EU Antenna UHF. Circular polarized Panel Antenna for operating frequencies in the UHF ranges 865-870 MHz (Optimized for EU Region). Gain: 11.0 dBic @ 866 MHz. Width (3 dB beam): 65° x 30°. Protection class IP65. Antenna connection SMA socket (50 Ohm). Housing ASA-ABS Light grey. Dimensions (WxHxD): 590x270x57 mm. Weight: 2.200 g.
ID ISC.PRHD102-USB-EU HF/UHF – USB Handheld Dual Frequency Controller. Combined HF / UHF Multi-tag Handheld Reader with integrated HF and UHF antenna (linear polarized). Interface: USB (HID,12 Mbit); 2,5 m cable. Read Range: UHF up to 180 cm. – HF up to 18 cm. (depending on tag). Protection class: IP 30. Power supply (max. 500 mA): USB – High Powered Interface. Supported transponders: HF – ISO 15693, UHF EPC Gen2. Reader modes: FEIG ISO Host Mode, Scan Mode, Keyboard Emulation
Low Cost OEM Mid Range Reader RFID UHF multi-protocollo di terza generazione per la lettura/scrittura transponders UHF EPC (860 – 960 MHz). 1 x antenna integrata di prossimità + 1 x antenna esterna, Multiplexer integrato; applicazioni di logistica, industria, Retail, Fashion, controllo di processo, workstation desktop, smart parking, etc…
Settori Applicativi RFID

Settori di Mercato RFID

---

Alcuni casi applicativi di successo in cui è stato utilizzato l'apparato:
This slideshow requires JavaScript.