BluEpyc Bluetooth Low Energy desktop Gateway Reader
BluEpyc Bluetooth Low Energy desktop Gateway Reader is an elegant and small size device, with web server on board, CPU & I/O; reading range up to 100 meters.
It's able to receive and manage data coming from BLE Tag Beacons (positioned on people or objects) as well as from BluEpyc EchoBeacons, and to transmit the collected data to an host server (also Cloud) via Ethernet Lan, Wi-Fi or Mobile GPRS.
The on-board presence of CPU and Digital Input/Output allows the development of custom firmware.
Elegant, small size, easy installation, low cost & intelligent Bluetooth Gateway Smart Cloud.

Read/Write standard Beacon, Eddiston & iBeacon Tag. On Board Web Server.

Host Interfaces: Ethernet / Wi-Fi / Mobile GPRS quad-band. RTC. CPU & I/O

IoT & Active RFID application. Real Time Location System & Indoor Positioning System.

Some

application scenarios

: vehicle & people access control (also stand alone), home & building management , safety (hospital, construction site, etc…), process automation, asset & facility management, smart city (parking, leisure & tourism, …)
Operation Frequency: 2,4 GHz. IEEE Standard: 802.15.1 (Bluetooth 4.x Low Energy)
Reading Range: up to 100 meters (depending on environment, configuration, Bluetooth antenna & tag beacon feature). Anti-collision Beacons reading.
CPU Feature – Low Power 16 Bit 16Mips microcontroller.
Host Interfaces: Lan Ethernet or Wi-Fi or Mobile GPRS quadband.
I/O on external plug (8 wire). Real Time Clock/Calendar with battery. Slot for Micro SD memory card & SIM Card.
Web Cloud Device: Web Server for configuration via Internet browser (Ethernet & Wi-Fi versions).
Firmware Feature: on board BLE management protocol, anti-collision, read BLE Advertising & RSSI, Lan/Internet notification mode (TCP), read/write BLE parameter, filtering on RSSI Level, filtering on beacons mask. Dataset: Beacon Advertising, Time, RSSI & I/O status. Trigger wake-up (2 inputs), Tag on presence output.
Possibility of custom applications (on request)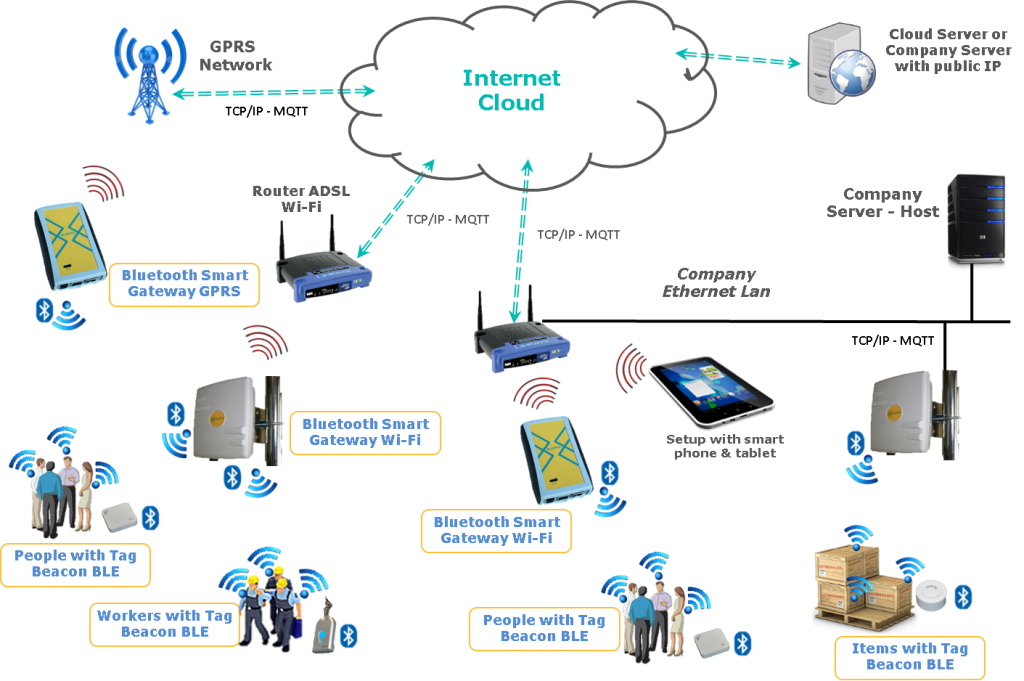 Industrial Wall Mount Gateway Version
Common features to all models:
Desktop Case – ABS-94HB. Protection class IP40.
Dimensions (HxWxD): 121.9 x 78.7 x 33 mm.
Weight: About 150 g. Colour: Gray with Dark Gray Rubber Sides.
I/O on external RJ45 (8 wire): 3 x digital input, 4 x digital output.
Models
BE-BLEG-D-E
BE-BLEG-D-W
BE-BLEG-D-M
Host Communication
Ethernet RJ45 (10/100).
Wireless Ethernet 802.11 b/g/n
Mobile GPRS quadband
Power supply
12 VDC (+/- 5 %) external power supply (not included)
CPU
Low Power 16 bits, 16 MIPS, PIC 24FJ256GB206 processor Memory: 256K Flash, 96K Ram, 16Mbit Flash (for web server), 64Kbit EEPROM.
Operating frequency
2,4 GHz. IEEE Standard: 802.15.1
Bluetooth RF Antenna
Integrated ceramic antenna or SMA connector for external antenna (2 variant).
Reading Features
Anti-collision Beacons reading. Read Performance: about 80 tags per second Read Range: up to 100 meters (depending on environment, configuration, Bluetooth antenna and beacon feature).
Data Rate & RF Power
1 Mbit/s. Security 128-bit AES. Transmit power: +3 dBm. RX sensitivity: to -91dBm.
Other Features
Real Time Clock/Calendar with battery. Slot for Micro SD memory card. Internal interface: 1 x buzzer, 1 x Led bicolor, 1 x I2C Interface
Power consumption
Typical: 400 mA – Max 2 Amp
Temperature range
Operation: -20° C up to 65° C  –  Storage: -20° C up to 85° C
Models
BE-BLEG-D-E
BE-BLEG-D-W
BE-BLEG-D-M
Standard Firmware & Reader modes
On board BLE management protocol, anti-collision, read BLE Advertising & RSSI, Lan/Internet notification mode (TCP). Read/write BLE parameter, filtering on RSSI level, filtering beacons mask. Dataset:  Beacon Advertising, Time, RSSI & I/O status. Trigger wake-up (2 inputs), Tag on presence (3 Outputs). Possibility of custom applications (on request)
Configuration mode
Low-level commands, Client Application or via On Board Web Server (Internet Browser)
Pre-set in lab or Mobile SMS
BE-BLEG-D-E – BluEpyc Bluetooth Low Energy Gateway Desktop Ethernet
BE-BLEG-D-W – BluEpyc Bluetooth Low Energy Gateway Desktop Wi-Fi
BE-BLEG-D-M – BluEpyc Bluetooth Low Energy Gateway Desktop GPRS