Desktop Reader RFID 

banda HF (13,56 MHz) –

ISO 15693, ISO 14443-A/-B ed NFC (Near Field Communication)

Frequenza
Standard
Comunicazione
Performance / Antenna
Modalità Operative

RFID in Banda HF – 13,56 Mhz

ISO 15693, ISO 14443-A/-B, NFC

USB Full Speed (12 MBit/s)

Fino a 10 cm
Integrata 50 ohm

ISO Host (polling)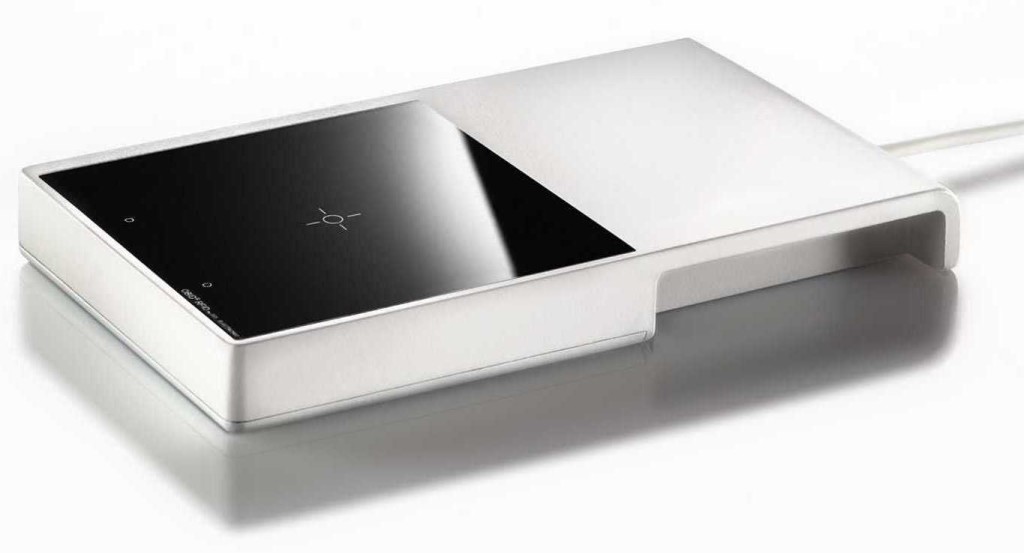 Desktop Reader RFID (lettura e scrittura) di tag RFID HF (13,56 MHz), interfaccia USB o RS232 per utilizzo da banco o  sistemi POS. Alimentazione da PC e Keyboard Emulation (vers. USB). Supporto per applicazioni NFC (Near Field Communication). 2 Moduli SAM opzionali.
---
Famiglia ClassicPro Multi ISO standard: ISO 15693, ISO 14443-A/-B ed NFC (Near Field Communication) per applicazioni da banco ed inizializzazione transponder.
Product by
I DeskTop Reader RFID ID CPR30-USB sono progettati come device usb da tavolo per lo scambio dati contactless (lettura e scrittura) con i più diffusi transponder secondo gli standard ISO15693, ISO14443-A/B ed NFC (Near Field Communications) e micro-pagamenti rapidi e senza contatto.
L'alimentazione e lo scambio dati con computer o altri equipaggiamenti è garantito attraverso l'interfaccia USB ad alta velocità.
Le funzioni di anti-collisione consentono l'identificazione simultanea di più transponder. Il Firmware aggiornabile (Flash-EEPROM) consente l'implementazione delle future generazioni di transponder.
Funzioni di Anti collisione (lettura multipla di etichette)
Controller Multi standard ISO 15693, ISO ISO 14443-A (Mifare only UID), ISO 14443-B (Es. mifare, my-d, STM, Jewel etc.)
Supporto per applicazioni NFC (Near Field Communication).
Segnalazione: 2 LED (green / orange)e Buzzer integrati
Alta affidabilità: MTBF 500.000 ore
Microsoft PC/SC driver USB

Firmware upgradabile attraverso Flash-EEPROM

Dimensioni estremamente ridotte (9,3 x 6,2 x 2,7 cm)
Modelli :
ID CPR30-USB – (pn. 3600-000-01) Desktop Reader HF MultiISO with USB interface & integrated antenna. HF proximity Controller, standard: ISO15693 (full support), ISO14443-A/B (Mifare classic only UID, Mifare DESFire, Mifare Plus) & NFC (type 2,4). Operating frequency: 13,56 MHz. Host Interfaces: USB 2.0. Power supply: via USB (5 Volt). Range up to 10 cm. Dimensions: 144x84x18 mm. / IP42. Output: 2 Leds, Buzzer. Reader modes: FEIG ISO Host Mode (polling mode). Firmware upgradable. Application: Fidelity & Loyalty Card, Access Control, ePayment, eTicketing, Public Transport etc..
Per le caratteristiche tecniche e gli sbocchi applicativi il CPR30-USB – DeskTop Reader RFID HF USB può operare con:
ID CPR40.30 – RFID DeskTop Reader HF USB & NFC
ID CPR50-10-E – Terminale controllo accesi in LAN (PoE).
ID MAX50-10-RE

 – Terminale controllo accesi stand alone (white list on board) con relè in LAN (PoE)

ID ISC.ANT1300/680 – Slim Gate 3D (controllo accessi involontario)
Il nuovo ed elegante design e le dimensioni compatte consentono l'installazione in vari ambienti. L'interfaccia USB, l'alta velocità di lettura/scrittura, l'affidabilità (MTBF) e la sicurezza della transazione consentono una varietà di applicazioni da banco quali l'identificazione di archivi e documenti, la registrazione di noleggi, il ritorno di beni o libri, fidelity card, autenticazione e sicurezza, pagamenti elettronici, servizi al cittadino, ticketing e qualsiasi altra applicazione custom.
Alcuni casi applicativi di successo in cui è stato utilizzato il DeskTop Reader RFID:
This slideshow requires JavaScript.